Regarded by many as the finest single-seat, piston-engined fighter of the Second World War, the North American Mustang was designed in 1940 to an RAF specification, the prototype being built in the incredibly short time of 117 days. Developed through the P-51A, B and C series, the D was much refined with a higher powered engine, teardrop canopy and a performance second to none.
Famous for its bomber escort role with the US Army Air Forces, the Mustang also contributed to the Pacific war in which, by virtue of its long range, it was well suited. The 1,450 hp Rolls Royce Packard-built Merling engine produced a maximum speed of 437 mph at 25,000ft, a service ceiling of 41,900ft, and a range with two 75 gal. drop tanks of 650 miles.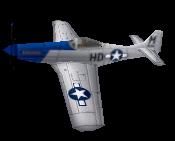 Armament was six 0.5 inch Browning machine guns and provision for two 500lb bombs uderwing. Markings are provided for a J26/P-51D Mustang of the first squadron o F16 Wing of the Swedish Air Force based at Uppsala in 1945, this service using more than 160 Mustangs up to 1954. Optional markings are provided for a P-51K Mustang 1VA of No.249 (Gold Coast) Squadron, Royal Air Force, based at Brindisi, Southern Italy, in June 1945.
In-game specifications
Edit
Community content is available under
CC-BY-SA
unless otherwise noted.